Phil Slape
Attorney at Law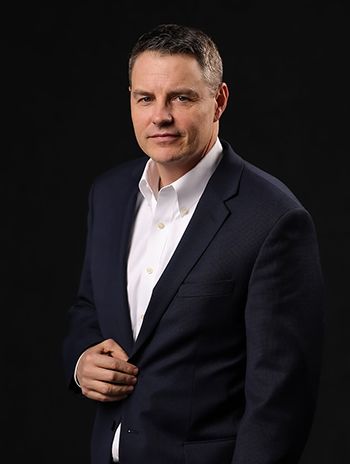 Phil is an immensely experienced Workers Compensation Attorney, having practiced for 24 years and handled thousands of cases. Phil is in Court regularly and has argued cases to the Appeals Board and the Kansas Appellate Courts. Over the course of his legal career, there is scarcely a workers compensation law that Phil hasn't read, digested, and recited to his legal assistants (while they've struggled to stay awake). While workers compensation is excessively complex, luckily for us, this is an area where Phil has a deep arsenal of knowledge and experience.
Recently, Phil and Jon Voegeli relocated Slape & Howard from the high end South Broadway area of Wichita to the Delano District. Their current office building is a former brewery, remodeled as a workers compensation legal fortress; although they insisted that the bar area remain in place. When asked about this unique set up, Phil tells us "we needed a space for events and entertaining. We believe this helps us pursue our client's interests. We practice with the understanding that our clients expect results and we put ourselves in their shoes. They want an attorney that is willing to go the extra mile for them and find ways of creating influence. Having a space (bar area) to have meetings with attorneys, physicians, politicians and clients is essential to this goal."
Away from work, Phil spends his time with his wife, Lisa, and his two kids, Ryan and Malia. Ryan is a sophomore at the University of Arkansas and Malia will be a senior at Andover High School. His wife, Lisa, is the office manager at Slape & Howard.
Phil graduated from Wichita East High School in 1988. He received his undergraduate degree from the University of Nevada Las Vegas in 1994. In 1995, Phil lived in Seoul, South Korea, where he worked in a world class hotel owned by the Samsung Corporation. He graduated from Washburn Law School in 1998 with excellent grades and was recognized by the National Bankruptcy Institute as the 1998 Student of the Year. He joined the Law Offices of Slape & Howard that same year. Currently, Phil also serves as the Legislative Chair for the Kansas Trial Lawyers Association, regularly speaks at seminars and to Kansas Legislators on workers compensation issues.


I am proud to help the people that come to us for help.
Education
J.D. - Washburn University School of Law, 1998

B.S. - University of Nevada Las Vegas, 1994
Memberships
Wichita Bar Association

Kansas Bar Association

Kansas Association of Justice Board of Governors