Jo Massey Attorney at Law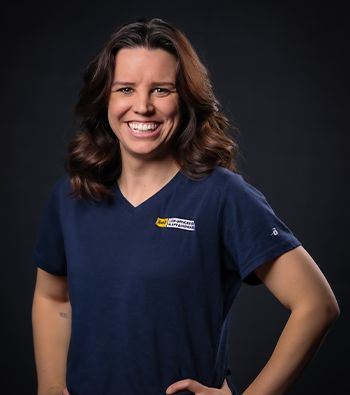 Jo joined the Slape & Howard team straight outta Washburn Law after graduating with Dean's Honors in the infamous COVID class of 2020. From the get go, Jo has quietly and consistently beat insurance companies down on behalf of her clients. (To be fair, everyone does things quietly around here compared to Jon.) Jo's persistence particularly shines through in well-articulated arguments at hearings, sharp written legal briefs, and anytime she has a chance to play devil's advocate to one of Phil's ideas.
Since joining the firm, Jo's also earned the opportunity to write on behalf of the workers compensation section for the Kansas Trial Lawyers Association journal in its quarterly publications, lobby the Kansas legislature on behalf of injured Kansans, and earned a membership as a Board of Governor for New Trial Lawyers representing Kansas trial lawyers with less than 10 years of practice experience.
Prior to law school, Jo joined the inaugural women's soccer team at Fort Hays State in 2011. There, Jo spent four years building both her competitiveness on the field and her qualifications to eventually work in former-brewery-turned-law-firm off the field. She earned her degree in international business and economics which she used to land every college grad's dream job: a tour guide at Coors Brewery. Jo had her eyes set on law school though, with a passion to advocate against those with seemingly unlimited resources like insurance companies. Her parents' own woodworking business taught Jo the work ethic needed to provide for a family and the values instilled in those who aren't afraid of some sweat equity.
When Jo's not making the work comp insurance defense bar cry, she can be found painting another room in her house or gardening in her yard with the resident office dog, Brooks. Jo often uses her lawyer husband, Andy, to sharpen her argument skills at home too. Jo, Andy, and Brooks love spending their summer weekends "hunting" for antler sheds at the family ranch and their winters traveling to Colorado where Jo grew up.