Jon Voegeli
Attorney at Law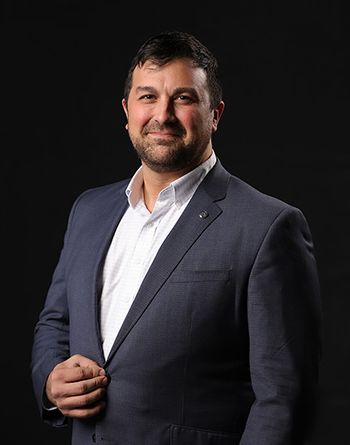 Jon got called up to Slape & Howard after a stint in the California Penal League, where he spent time in Del Norte County assisting public defenders and inmates at the infamous Pelican Bay State Prison. He never ran into "Wild Thing" Rick Vaughn. Since joining the firm in 2013, he has won a number of cases, arguments, and awards and also damaged every office chair that has been assigned to him. The running tally is three lost chairs, and no one mentions the mysterious exploding coffee pot.
What he lacks in grace he makes up for in tenacity, making his multitasking skills impeccable. He is generally found reading through a statute book while talking to a client and e-mailing a state representative some interesting facts about the current state of worker's compensation in Kansas. He regularly discusses legislation with other practitioners through his role in the Kansas Trial Lawyers Association. He can often be seen in Topeka lobbying and testifying for the rights of injured working Kansans, and is just as tenacious in his legislative approach as he is in his litigation approach. He has taught case law to other practitioners at the Annual Kansas Worker's Compensation Seminar for four years running and was recently asked to write about work comp case law for the KTLA journal.
He is quite persuasive and considers his greatest accomplishment convincing his wife (who is an ICU nurse studying to be a nurse practitioner and assures us that he is mostly normal) to leave northern California and come to Kansas. Jon also recently learned how to play Dungeons & Dragons with his children, Liam and Riley, his two twelve year-old children. This is a skill that he repeatedly assures us has real world value and should be taken seriously. In the rare moments that he has any free time, Jon can be found on his mountain bike dodging trees on a few local trails, showing off his mildly competent basketball skills, and explaining why a great defense will always prevail over a great offense.
Jon graduated from Kapaun Mt. Carmel in 2000. He went on to study political science at Wisconsin Lutheran College and received his undergraduate degree in 2004, with honors. Jon then passed his Series 7 and Series 66 FINRA exams, licensing him to work buying and selling securities, although that certification has lapsed. Jon went to law school at Washburn University, where he graduated with Dean's Honors in 2011. He is licensed to practice law in Kansas and California, although he is currently listed as inactive in California.
I am proud to have the opportunity to serve the community that has always been my home.
Education
J.D. - Washburn University School of Law, 2011

B.A. - Wisconsin Lutheran College, 2004
Memberships
American Bar Association

Kansas Bar Association

Wichita Bar Association